At LMO, we have drawn on our decades of ITAM experience to develop our own ITAM Maturity Model. This model is based on the countless implementations we have undertaken ourselves or participated in, and takes account of how both software and hardware are managed, in addition to the various levels of sophistication in the processes used to manage them.
Have a look at this model and ask yourself where your organisation sits.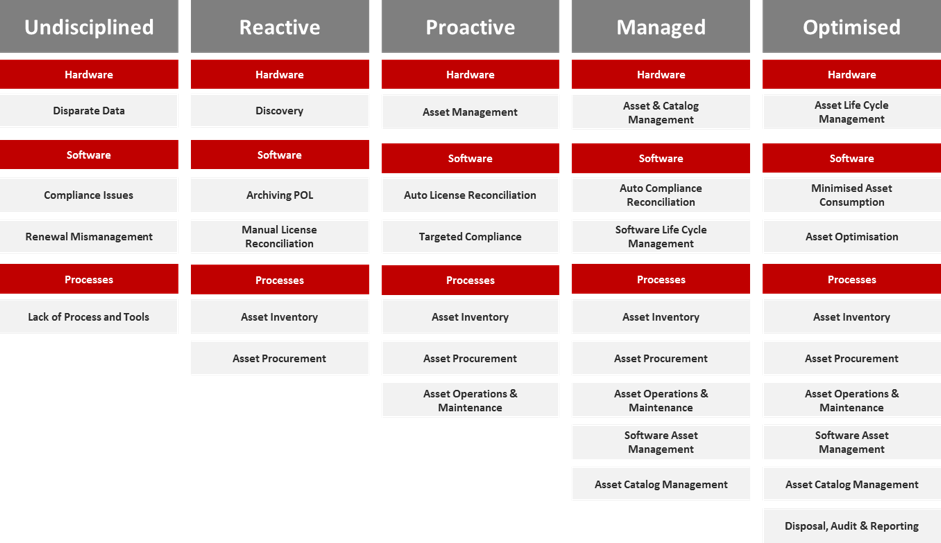 How did you do? Don't be downhearted if you are further to the left than the right. This is not unusual. It is also worth bearing in mind that very few firms can boast to have reached the final stage – which we call the Optimised position – and not every firm needs to get there.
Yes, having a truly optimised ITAM position provides huge benefits, but it is worth recognising that this comes at a cost. Moving through each stage can be a costly process in its own right. You need to be clear that the cost will reap the return you desire. The size of your organisation, especially in terms of the number of devices and software used, combined with your available budget, will determine what stage in the ITAM Maturity Model is realistic to aim for.
How immature are you? If you feel you're in need of some added maturity, give us a ring.
Read more in our whitepaper; Trinity of ITAM Success.