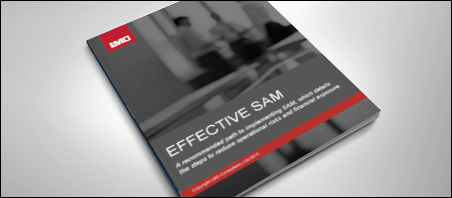 The effective management of software licences ensures that organisations don't overspend vast sums on unnecessary licences and support agreements.
Companies have contractual obligations in line with software licence agreements and if breached can leave themselves open to charges of misuse or even fraud by the vendors. The penalties in these circumstances can be significant.
This document outlines the recommended path to successfully implementing SAM by detailing the steps that are required to ensure your organisation significantly reduces operational risks and financial exposure.
Highlights
SAM is the business practice that involves managing and optimising the purchase, deployment, maintenance, utilisation, and disposal of software applications within your organisation.
SAM is now an integral part of a well-run organisation, assisting in reducing cost and risk and increasing operational productivity.
SAM increases company profitability by reducing waste and increasing enterprise-level productivity.
SAM mitigates the risk of illegal use of software, whilst significantly reducing disruptions and un-budgeted expenditure caused by vendor audits.
SAM implementations progress more successfully when the support and commitment of a company director with legal responsibility for software assets is clearly defined.
SAM is a critical requirement for organisations moving to the cloud, ensuring that you provision, configure and control your access to software used over the internet.